Naa Enti is a Biochemist turned farmer and Wellness Coach with over 20 years Corporate experience in the UK. Currently an Agribusiness and Healthy Lifestyle Entrepreneur.  She is the owner of Garden2Plates, a growing healthy eating and organic vegetable business in Accra.  Garden2Plates was born out of a passion for gardening, eating healthily and making the case that a sound mind and body is crucial in productivity.

Naa believes in affirming people and works on the basis that everyone has the capacity to do well and live their best life given the right environment and tools. In her sessions she is not afraid to challenge but always does so sensitively and respectfully. Her role she says is to remind her clients that our perception of failure and how we deal with it, is what can make or break us. Naa's purpose as a coach is to be available, open, non-judgmental and to create a safe environment for deep truthful reflections and resist the temptation to solve problems.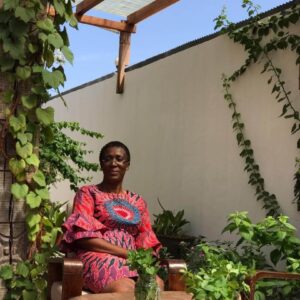 For clients her mission is to encourage them to go beyond their current level of capacity and be the best that they can be, to be kind to themselves, to know that she is available to listen, to challenge and question till they come up with the solutions they can commit to and believe in. Naa has over 20 years of working experience in the UK. She has held various senior managerial positions in blue chip companies such as J Sainsbury's and Royal Mail in the UK. It was during this period she discovered her passion for supporting people to self-actualize and take responsibility for their personal and career development in the workplace. Consequently, she trained and was accredited by Middlesex University as a Performance and Life Coach.
Naa focuses on teaching her clients how to eat balanced meals and increase their intake of vegetables, fruits, and nuts. In her demonstration classes, she uses her knowledge of science to simplify the facts about why what we eat is so important. Naa uses everyday affordable ingredients to demonstrate how easy it is to eat more vegetables. She believes "Wellness" is at the centre of living our best life and looking after both body and soul is of utmost importance. Her challenge to her clients is that you can't give your best to your profession or personal life when your body and soul are not functioning at their optimum.
She is currently a member of the EMCC (European Mentoring and Coaching Council) Naa also holds a BSc. in Biochemistry and Management from Imperial College, University of London as well as an MSc. in International Business from Birbeck College, University London